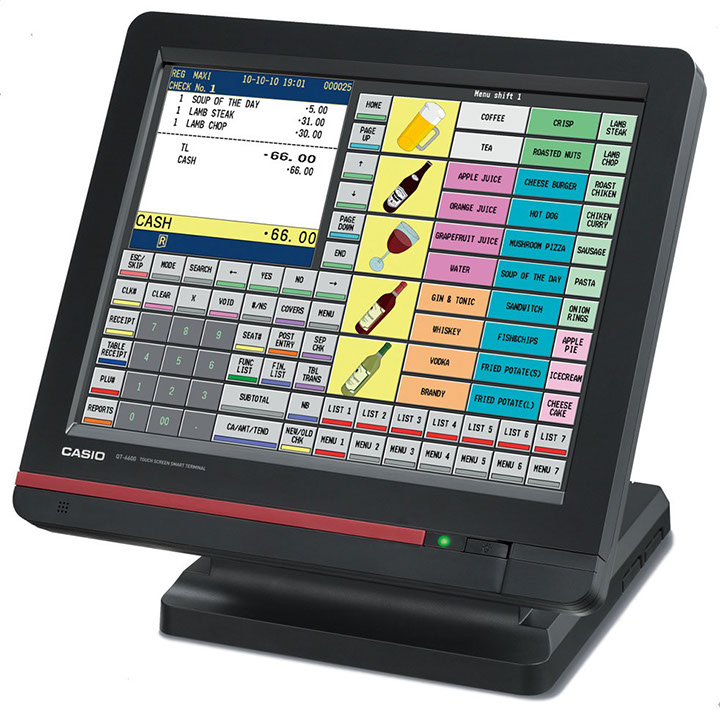 With 70 items on a single screen and multiple menu shifts available, simple operation
is assured. Every item can be linked to a graphic image for further enhanced ease of use.
Easy to use
The wide, bright 15" colour TFT LCD touch panel assures easy, accurate operation. The touch screen offers clear categorization for item registration, numeric entry and entry confirmation.
A built-in 2x20 character rear display makes it easy for customers to monitor sales transactions, and either an emerald green or white backlight colour can be selected to suit the operating environment.
The QT-6600 supports Ethernet/RS232c communication with remote UP-400 printers for flexible network configuration on your business premises.
The display can be tilted throughout the range from 20 to 70 degrees, nabling it to adjust to virtually any operating environment.
Connectivity
Six RS232c ports support flexible, varied configurations of peripherals such as printers, scanners, scales and PCs.
1x Ethernet with a speed of 10/100 Base T/TX ensures smooth in-house communication with other equipment, and the ability to use a popular CAT5 cable makes wiring easy as well.
2x drawer ports are standard equipment.
An optionally available QT-6060D remote customer display offers a selection of from one to three backlight colours.
Operator recognition is achieved by secret code, optional dallas key or optional MCR.
Connection of an optionally (locally sourced) order-entry terminal for order taking and receipt issuing is also possible.
Bar-code scanning handles registration of bar-coded items basic to the hospitality environment.
The system also supports configuration of additional (locally sourced) options such as a PS2 keyboard and scale.
Security
Operation resumes quickly after power failures or other such interruptions.
An intuitive screen layout reduces training time for new employees.
A master and master backup system